[Survey] The State of Hospitality: Gaining momentum for 2022
Nearly two years after the onset of the COVID-19 pandemic, the world is still in a state of uncertainty. While the advent of vaccines and dwindling case rates in early summer led to a boom in dining out, travel, and events, the Delta and Omicron variants threw the hospitality industry for a serious loop.
Still, in a year that saw lockdowns end and restrictions ease, hospitality businesses made big gains compared to 2020 — and many expect more around the corner.
To get a pulse on the current state of the hospitality industry, as well as a feel for what's ahead, Instawork — in partnership with the International Catering Association (ICA) — surveyed hundreds of different hospitality businesses ranging from caterers to hotels to restaurants in November and December of 2021. These organizations shared how their business performed over the last year, what they did to attract staff, which challenges they anticipate in 2022, and more. Read on for the top highlights, or view the full results here.
2021 exceeded expectations
Initially, the hospitality industry was bracing for another tough year. Our May 2021 State of Hospitality survey found that 74% of hospitality businesses expected to earn less than half of their pre-pandemic revenue. But in our most recent survey, that number dropped to just 22%. What's more, an additional 22% actually reported earning more than they had prior to COVID.
Staffing challenges hurt the bottom line
Even as the hospitality industry recovered, however, staffing challenges limited businesses' ability to bounce back.
99% of survey respondents had to forgo revenue in 2021 due to a lack of staffing.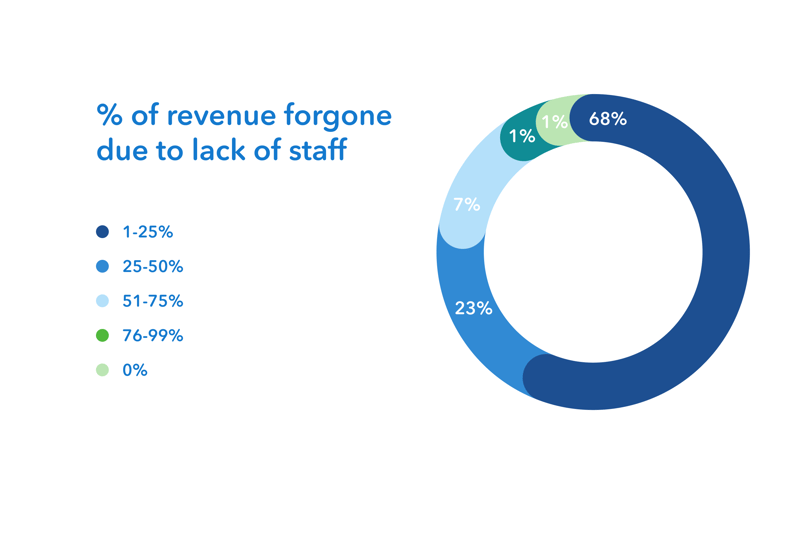 A chief driver of staffing challenges was the Great Resignation, which saw a spate of workers — particularly in the hospitality industry — leave their jobs in 2021 in search of better pay, flexibility, work-life balance, and more.
Two-thirds of survey respondents (67%) lost more than half of their full-time staff once they returned to business.
And in order to attract new staffers, businesses went to serious lengths.
Businesses went all out to win back workers
Hospitality businesses used a variety of tactics to attract and retain staff, including increased pay, new benefits, title promotions, more flexible schedules, rewards and gifts, and extra time off.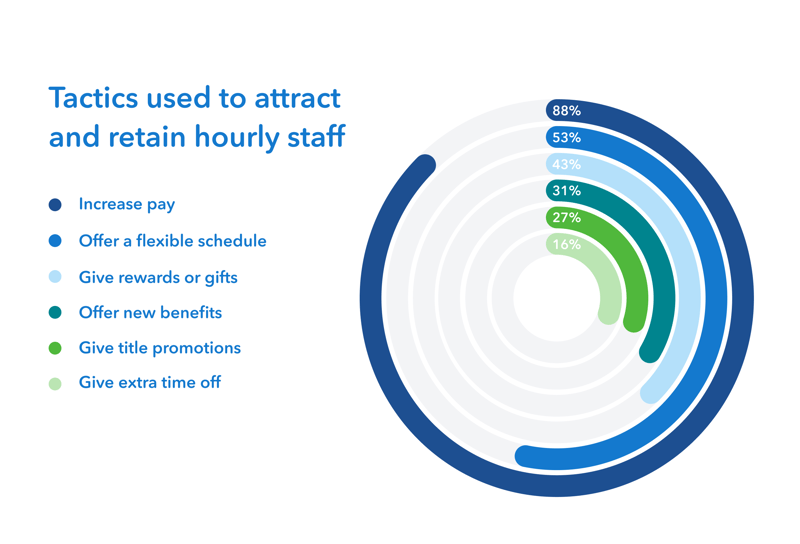 72% of hospitality businesses offered two or more incentives at the same time.
Wage growth shows no sign of slowing down
The most popular way to attract workers? Not surprisingly, raising pay. 88% of respondents increased pay between $1 and $5 per hour, and nearly 40% of these raises were in the $3 to $5 range.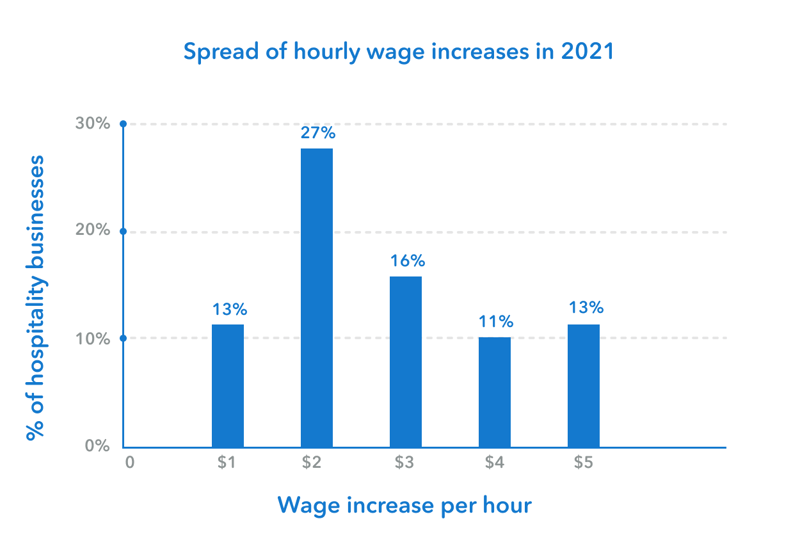 Overall, the average pay bump came out to $2.77 per hour. This meant that hospitality workers making $15 per hour, the standard for many entry-level positions, could have received a nearly +20% per hour raise.
And these wage gains will likely only continue in the next year.
65% of hospitality businesses surveyed said they plan to increase hourly pay in 2022.
Flexibility becomes a must-have retention tool
Hospitality workers' schedules have historically been at the discretion of their employers, with long shifts, inconsistent weekly hours, and working weekends and holidays all commonplace. But amidst the current labor shortage, businesses are finding that workers are no longer willing to build their lives around their work schedules. Whether they need to provide childcare, balance another part-time job, or just enjoy the weekends off, today's hospitality professionals want to work on their own terms.
Perhaps it's no surprise, then, that over half (54%) of hospitality businesses chose to offer flexible schedules to attract workers, making it the second most popular strategy to attract and retain workers.
Temporary staffing provides a lifeline
Incentives alone, however, weren't enough to overcome 2021's staffing shortages. With a dearth of in-house workers, hospitality businesses became more dependent on temp staff than they had expected. In Q2, 57% of hospitality businesses estimated that they would hire temporary staff in 2021.
Ultimately, 72% of hospitality businesses used temp staffing in 2021 — that's 15% more than had initially planned to based on findings from our 2021 Q2 survey.
And companies who did so reaped the benefits. With additional workers, many were able to take on more business than they would have otherwise.

Those who remained short-staffed, on the other hand, often left money on the table.
Almost one in every three hospitality businesses (31%) said they could have earned double their revenue in 2021 if they had enough staff.
Perhaps it's no surprise, then, that nearly two-thirds of respondents (63%) plan on utilizing temp staff in 2022.
New concerns for the new year
Moving forward, staffing will continue to pose difficulties — in fact, 44% of hospitality businesses listed it as their top challenge heading into 2022. Other hurdles included:
Rising supplier costs: 22%
Business uncertainty (last-minute cancellations, last-minute bookings, etc.): 21%
Forecasting labor costs: 5%
Difficulty booking business: 4%
Convincing customers to respect state/local regulations: 3%
Other: 2%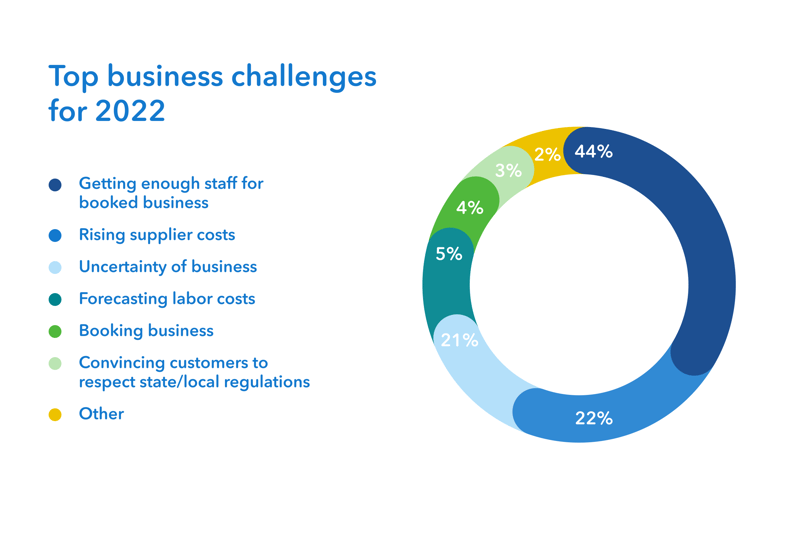 These varied significantly from last year's challenges, when the primary concern was booking business and business uncertainty. Between 2021 and 2022, the percentage of businesses that cited staffing shortages as an obstacle nearly doubled from 24% to 44%.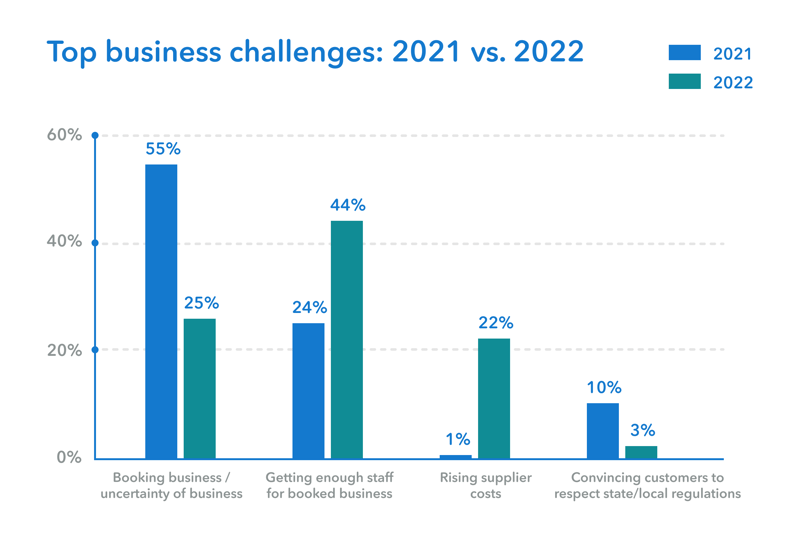 Businesses divided on vaccine mandates
Another issue hospitality businesses are facing: whether to require that staff get vaccinated against COVID-19. With legal requirements varying from location to location and mandates frequently challenged in court, there's little consensus on the best approach.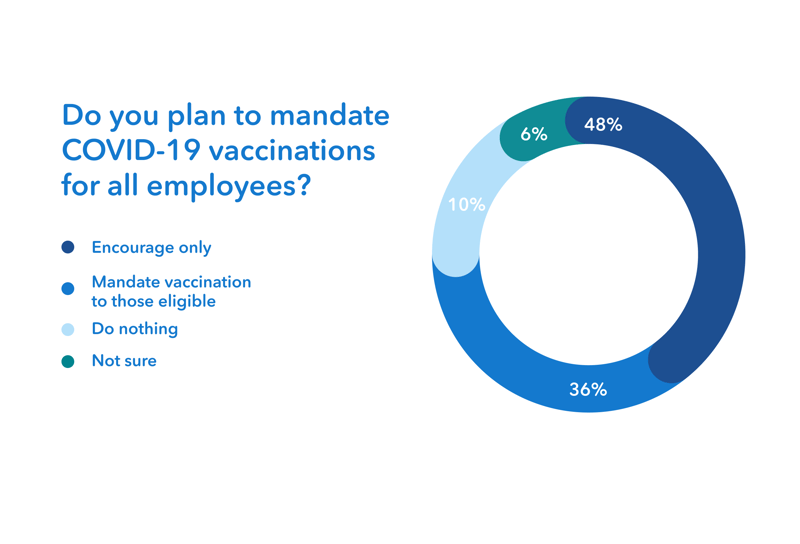 A better business outlook for 2022
Despite the difficulties the hospitality industry is facing, there is still reason to be optimistic. Business has undoubtedly picked up in the last year, and it may improve even further — a full 85% of businesses surveyed said they expect to earn more revenue in 2022 than in 2021.
For now, all hospitality businesses can do is focus on what's in their control. Businesses that take the time to reflect on the last year, plan for the next, and develop a solid staffing strategy will set the stage for an even more successful 2022.