[Report] The State of Warehouse Labor: Staying flexible in 2022
If there's one thing that has defined the light industrial space in the last couple of years, it's unpredictability. Between fluctuating demand, supply chain issues, and the labor shortage, these businesses had to constantly adapt their staffing strategy in order to meet the growing fulfillment volume. But what exactly are warehouses, distribution centers, and third-party logistics companies doing to ensure they have the labor force they need, how is it working, and what's ahead?
To answer these questions, we partnered with Logistics Management to survey hundreds of light industrial businesses in January 2022. Read on for the key takeaways of our report. Read on for the top highlights, or view the full results from the survey here.
Light industrial businesses still feel unprepared
Even after dealing with the pandemic and all the variability that has come with it for the last two years, very few light industrial businesses — from warehouses to distribution centers to 3PLs and beyond — feel confident about their ability to handle what's to come this year.
75% of all light industrial businesses don't feel fully prepared for 2022.
Why? For one, nearly 60% of them struggled to keep pace with increased demand in 2021. Supply chain variability has also thrown a wrench into operations — and while many hope it will stabilize in the months ahead, many have come to accept that that may never be the case.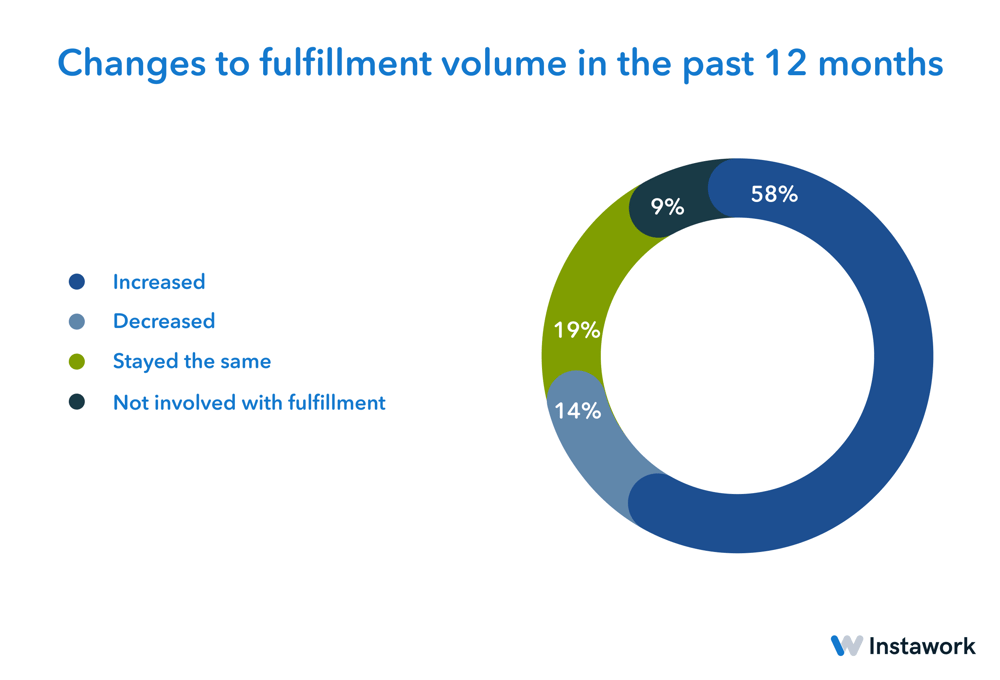 Amidst all of this volatility, businesses are learning that a 100% full-time workforce is often impractical when it comes to staying agile to changing volumes and conditions— 48% of light industrial businesses cite uncertainty/variability in volume as the main reason they're turning to temp labor.
Takeaway:

Variability may settle down, but the labor shortage isn't going away anytime soon — so your business can't afford to brush off an agile staffing strategy.


Retention edges out acquisition
While light industrial businesses have traditionally focused on recruiting and hiring in order to keep up with increased demand, the persistent tight labor market has led retention to become increasingly critical to long-term business health and operations.
Given the competitive labor market we're currently in, it makes sense. With so many different companies competing for workers, many have hit a plateau with recruiting efforts — making it all the more essential to keep existing employees.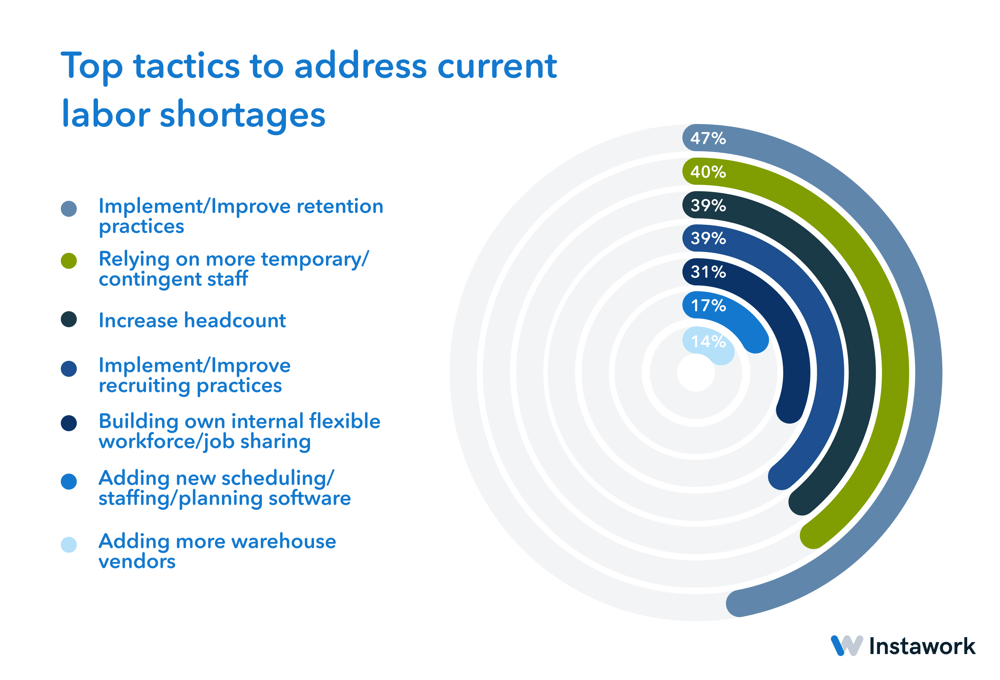 More light industrial businesses are investing in retention (47%) than acquisition (39%).
It's no surprise, then, that companies are offering meaningful gains in pay and benefits in order to compete — leading some to dub 2021 the Year of the Worker. In the years to come, businesses that succeed in retaining their employees will be those who are planting the seeds now.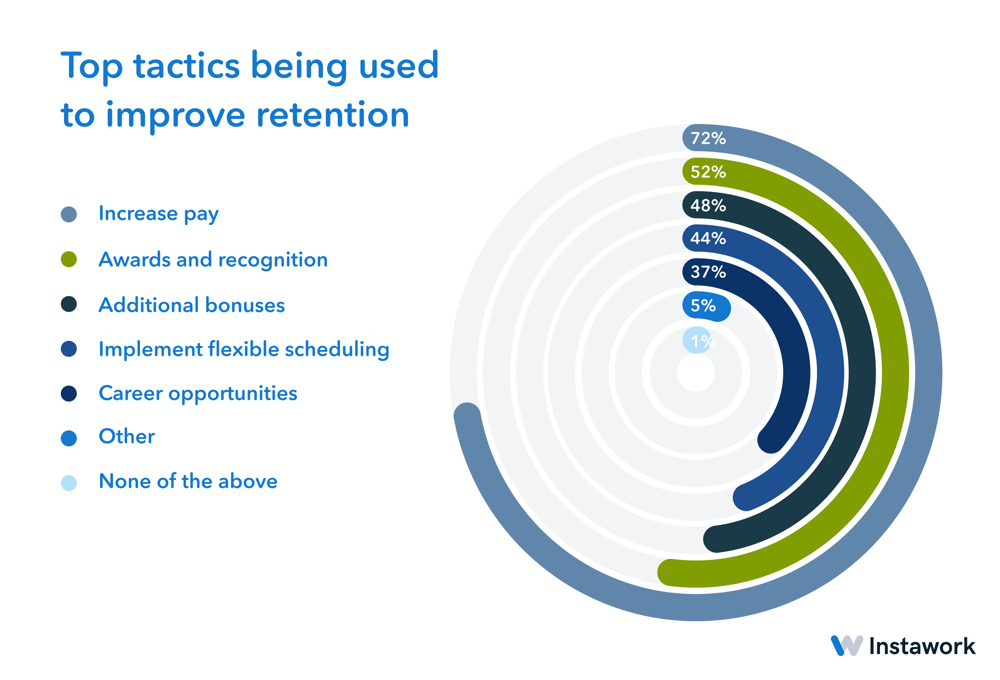 Takeaway:

If you haven't already, it's time to invest in retention of your current workforce, especially in this tight labor market — before you lose workers to competitors who have been playing the long game.


...But key non-monetary retention strategies, flexibility and career development, are overlooked
The majority of companies ramping up their retention efforts at the moment are currently focusing on monetary wins like increased pay (72%) and bonuses (48%). The average wage raise came out to an additional $2.54 per hour — nearly a 13% raise for those earning $15 per hour.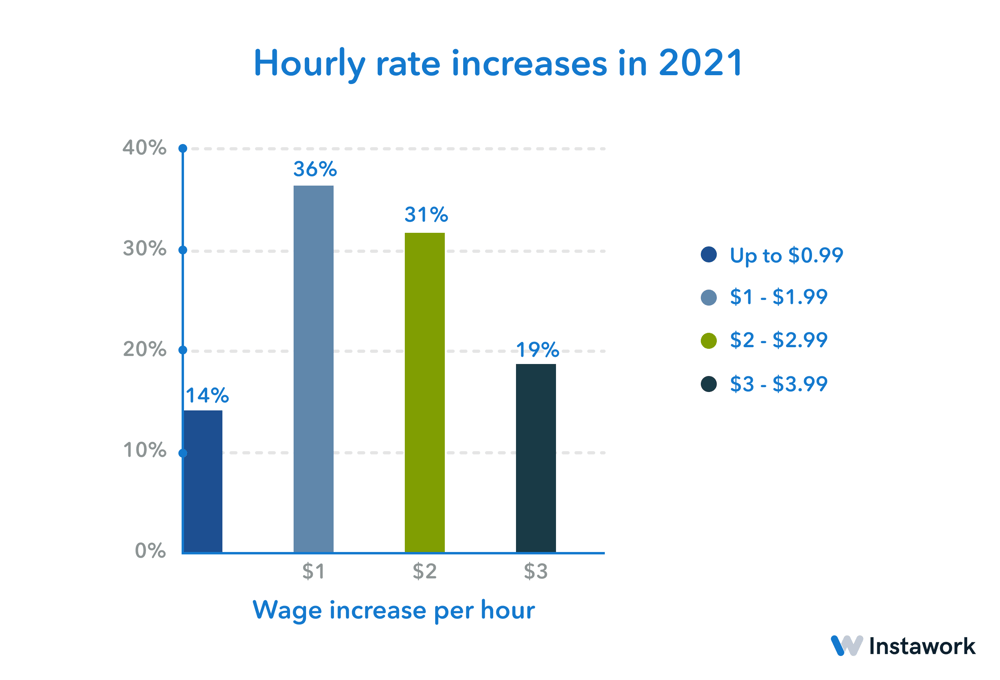 With such significant gains, however, wages may well be nearing their limit. After all, operating margins can only allow for so much of an increase in labor costs. And with so many of the major players increasing compensation to attract and retain workers, offering alternatives can help businesses stand out.
Just 44% of light industrial businesses are investing in flexibility, and 37% in career development.
Fewer than 50% of companies are investing in flexible scheduling and career development, despite being top requests from workers.
Offering flexibility is what workers want—just ask any of our Instawork Professionals. As Claudy C. of New York City put it "The flexibility gives me more time with my family. I can pick the shifts I want, where it's convenient to me."
Flexibility isn't the only thing workers are looking for. Another Harvard Business Review study described a lack of career development as one of the top three issues low-wage workers face. They found "a plurality (33%) of [hourly] workers said they saw no opportunity to move up" at their organization, while just 5% of hourly job postings mentioned career mobility.
Takeaway:
Flexibility and career development are becoming critical factors for workers, yet many employers fail to invest in these areas — creating a major opportunity for those that do step up.
Temp labor is crucial, but existing vendors often fall flat
Retention efforts alone, of course, weren't enough to close the gap between headcount and demand. 66% of warehouses and distribution centers expect to fill open positions with temp workers in the next year.
And demand for temp labor is largely increasing — 54% of light industrial businesses reported using more temp labor now than before COVID. Some of the most common temp labor solutions include self-sourcing, tapping into referral networks, and working with local or national staffing agencies.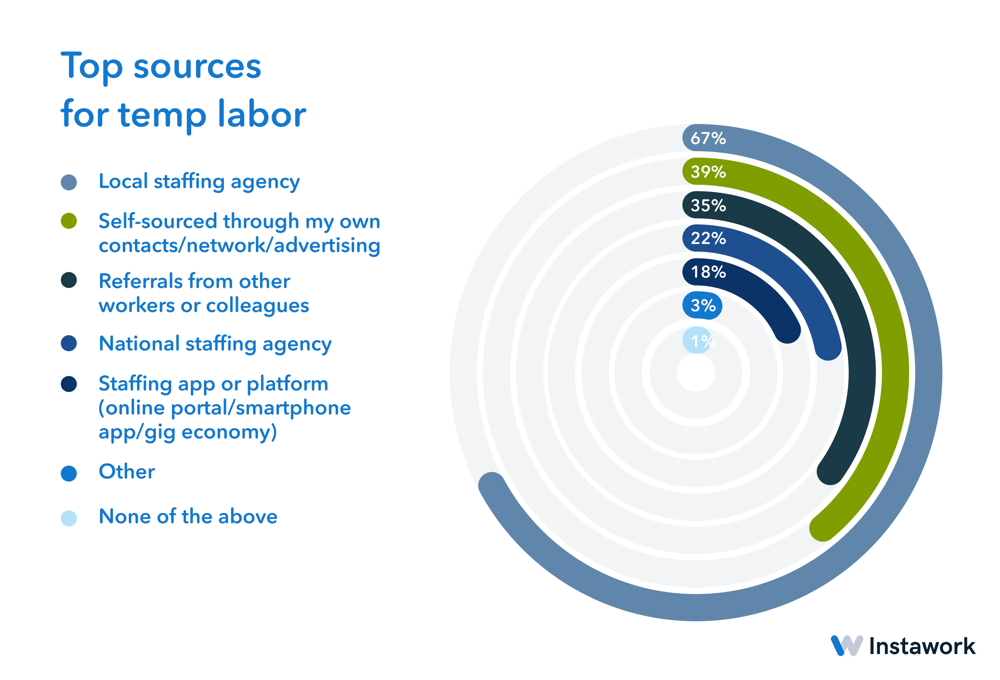 These tactics, however, frequently fail to deliver the labor needed to keep operations running.
84% of light industrial businesses used 2+ staffing vendors — but only 6% got all of the workers they needed.
Takeaway:

Traditional temp labor sources are no longer delivering — don't try the same methods expecting different outcomes.


Flexible staffing models provide an untapped opportunity
Despite traditional staffing solutions' spotty record of delivering, many light industrial businesses haven't branched out beyond them as a means of tapping underutilized labor pools.
Only 18% of businesses report using a tech-enabled staffing solution.
This, in turn, highlights another big opportunity area for light industrial businesses since traditional avenues are filling the gap.
Instawork's flexible staffing platform provides the reliability you need with the ability to build your own roster of trained, motivated flex workers.
Takeaway:
Flexible staffing platforms like Instawork help businesses expand their permanent and temporary labor pool while making it easy to schedule, manage, and build relationships with workers over time.
The road ahead
The past couple of years have tested warehouse and distribution operators in a way it never has been before — but the silver lining is that many businesses have challenged norms and experimented in their quest to adapt. If light industrial businesses continue to show the same resilience as they've demonstrated thus far, along with a touch of innovation, they'll be poised to thrive in 2022.